Contact our office to see how you can enter special contests!
Prizes Include Pittsburgh Steelers tickets, gift cards, branded gear and more!
This holiday season Benko Orthodontics has new and exciting contests and donation opportunities for a chance to give back to our local community! Be sure to check out our Facebook page for frequent updates.
CONTESTS
– Patient of the Month: every month one lucky patient will win a "Mystery Bag" that can include anything from movie tickets, gift cards, an I-Pad, and potentially even a pizza party for your class!
Congratulations to our Kittanning patient Jolynn Neal!!
Jolynn is our October Patient of the Month and has won our "Mystery Bag" filled with all kinds of goodies including a Minions electric toothbrush, toothpaste, a fidget cube, HeadBanz the board game, and a pizza party for her class!!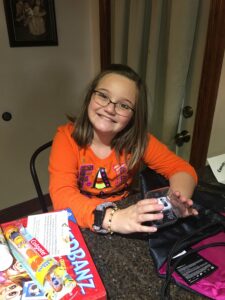 Who is our November Patient of the Month? Stay posted!
– Patient Referral Gift Card: every quarter, one lucky individual from our drawing will be rewarded a $250 gift card when they refer a patient to our office!
DONATIONS
– Toys for Tots: With the holiday season slowly approaching, patients who bring in an old, new or homemade ornament in the month of December, Benko Orthodontics will generously donate $5.00 to our local drop off station for Toys for Tots.