Contact our office to see how you can enter special contests!
Prizes Include Pittsburgh Pirates tickets, gift cards, branded gear and more!
Benko Orthodontics has new and exciting contests and donation opportunities for a chance to give back to our local communities this year! Be sure to check out our Facebook page for frequent updates.
CONTESTS
– Patient of the Month: every month one lucky patient will win a Benko Orthodontics Nike drawstring backpack complete with a movie package to a local cinema as well as a gift certificate to a designated restaurant!
Congratulations to our Butler patient Travis Shaffer!!
Travis is our May Patient of the Month and has won our Benko Orthodontics Nike drawstring backpack filled with all kinds of goodies including a movie package to Regal Moraine Pointe Cinema and a $25 Gift Card to Kings Restaurant!!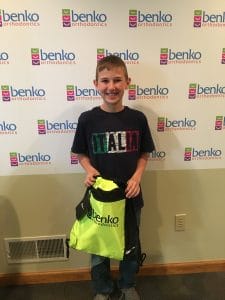 Who will be our June Patient of the Month? Stay posted!
– Patient Referral Program: Our team at Benko Orthodontics strives to earn your referrals by providing you with the highest level of care.
It's easy! All you have to do is:
Pass our name along to people you think would benefit from the gift of a perfect smile.
Be sure they mention you as the referral at their new patient consultation.
As a thank you, when that patient begins treatment, you will receive a $10.00 gift card to…

You will also be entered into our quarterly drawing to win a $250.00 VISA gift card!