Contact our office to see how you can enter special contests!
Prizes Include Pittsburgh Steelers tickets, gift cards, branded gear and more!
The winner of July's I-Pod Nano contest giveaway goes to Stephanie Weiland! Stephanie also won a Nike drawstring backpack and a Benko Orthodontics t-shirt. She is also one of our patients from Chicora, PA. Congratulations!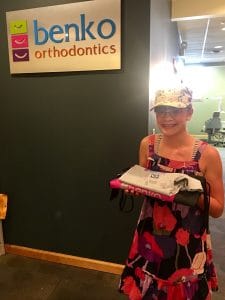 This summer Dr. Benko will be giving away prizes to patients of all ages! Be sure to be on the lookout for the following prizes…
– Patient of the Month: every month one lucky patient will win a "Mystery bag" that can include anything from movie tickets, gift cards, an I-Pad, and potentially even a pizza party for your class!
– Patient Referral Gift Card: one lucky individual from our drawing will be rewarded a $250 gift card when they refer a patient to our office!
– Pirates Tickets: over 100 tickets are given away to patients and this summer could be you! Sign up today and you could win!